Trends and Practices in Addiction Treatment
"Bless the Lord, O my soul, and do not forget all his benefits—who forgives all your iniquity, who heals all your diseases, who redeems your life from the Pit…" -Psalm 105:2-4
Addiction recovery can be understood as abstinence, or remission, but many believe for recovery to be truly effective it must go beyond mere abstinence.  It must include a process of personal growth and self-actualization for it to be lasting and meaningful. 
As we continue to learn more about addiction, there is a growing acceptance that addiction recovery can occur in a variety of ways. Whereas in the past complete abstinence was the only acceptable way to address these issues, there is growing consensus that one size does not fit all. Of those who report a past addiction problem, nearly half indicate they were able to resolve the issue without help, and do not consider themselves "in recovery." Of those who self-resolved their addiction issue, 73% were only abstinent from that one substance that was at issue, but were not abstinent from other substances. (Recovery Research Institute survey, May 2017)
Addiction is a complex issue and expresses itself in myriad of ways. It also affects people in different ways, and with differing intensities. With this knowledge of the complexity of addiction, the approach to addiction treatment methods are also becoming more varied. 
The following list represents some of the most widely accepted and followed pathways for addiction treatment with their correlating success rates.
Treatment helps people disrupt addiction's powerful effects on the brain and behavior, and regain control of their lives. There are many kinds of treatment; your recovery may include one or more of these.
Detoxification (Detox)
Supervised withdrawal from substance use
A process that helps the body rid itself of substances while the symptoms of withdrawal are treated. Detoxification by itself is not treatment; it is a first step that can prepare a person for treatment. More details about pretreatment and detox.
Interim care
When immediate admission to other care isn't available
Many facilities have long waitlists, but can still help. Interim care provides daily medication and emergency counseling. This can be a helpful bridge from beginning recovery to admission to a regular outpatient, inpatient, or residential setting.
Outpatient
Treatment at a program site while a patient lives on their own
Outpatient treatment is best for people willing to attend regular appointments and counseling sessions. Since there is no overnight care, it's important to have a stable living environment, reliable transportation, and supportive family or friends.
Care frequency depends on the program, with some requiring daily attendance and others meeting one to three times per week. Outpatient care usually lasts from about two months to one year.
Hospital inpatient
24/7 care connected to a hospital, lasting days or weeks
These are usually connected to a hospital or clinic, and provide detox and rehabilitative care. People with serious mental or medical concerns, as well as substance use disorders, are the most likely to use inpatient treatment.
Teens and adolescents benefit from the structure of inpatient treatment to fully understand their needs and make a treatment plan.
Residential
Live-in care, lasting for one month to one year
A stable setting for long-term phased treatment. Each facility has specific rules and expectations for both residents and their families. Residential care usually lasts from a few months to a year.
They're best for people without stable living or work situations, and/or who have limited or no family support in treatment. They also help people with very serious disorders who have been unable to get and stay sober or drug free in other treatment.
Transitional housing
A temporary space to stay while transitioning from an intensive treatment setting. Sometimes called a halfway house or sober living facility.
As part of the path to independent living, these facilities support people in recovery with temporary places to live. They may also have support programs around employment and education, or case managers to help residents succeed during and after their stay.
Co-occurring mental health and substance use treatment
Integrated care that addresses substance use and mental illness
Having both a substance use and mental health disorder is called a co-occurring disorder. About half of people who experience one will also experience the other. Addressing both is critical for success in recovery, and integrated treatment programs can help.
Integrated care brings together different areas of expertise to treat the whole person, and ensure that treatment for one factor doesn't interfere with treatment of others.
Telemedicine (including internet and mobile options)
Care given over the phone or online to support treatment and recovery
Telemedicine can be a tremendous help to people who are unable to regularly get to a treatment facility. While it's not the first step in treatment, telemedicine can be a key part of a treatment plan, especially for patients living far away from a facility.
12-Step Groups & Organizations
1.     TWELVE-STEP, like Alcoholics Anonymous (AA) and Narcotics Anonymous (NA)
2.     SECULAR (NON-TWELVE-STEP), which are growing but smaller entities, such as SMART Recovery, Women for Sobriety, and LifeRing
3.     RELIGIOUS, such as Celebrate Recovery and Alcoholics Victorious.
Medication Assisted Therapy (MAT)
Medication-assisted treatment is the use of medications to treat substance use disorders and to prevent opioid overdose. MAT is primarily used for the treatment of addiction to opioids such as heroin and prescription pain relievers. Certain medication are very helpful to overcome the debilitating effects of withdrawal caused by body's inability to regulate dopamine. These medications help the addict through this withdrawal period until the body can begin to regulate and balance those bodily chemicals that give a sense of normalcy and well-being.         
Mutual Help Support
12-Step groups are the most widespread of mutual help supports, but there are a growing number of other ways addicts can find help in the recovery process. 
Dual Recovery Anonymous (DRA)–is an abstinence-based 12-Step mutual help program for people in recovery with a dual diagnosis. DRA helps members to recover from both their chemical dependency and their emotional or psychiatric illness (such as depression, bipolar disorder, OCD, and others). Via peer-led mutual support, DRA members help one another achieve dual recovery, prevent relapse, and carry the message of recovery to others who experience dual disorders.
HAMS (Harm Reduction, Abstinence, and Moderation Support)–is a free, peer-led support and information group for people who want to change their drinking habits for the better. Via online forums (chat room, email group, Facebook group), podcasts, and articles, HAMS helps people reach the drinking goal that they set – whether that goal is a reduction in drinking or completely stopping.
Celebrate Recovery Celebrate Recovery— is a Christ-centered, 12 step recovery program for anyone struggling with hurt, pain or addiction of any kind for community and freedom from the issues that are controlling your life.
LifeRing Secular Recovery–an abstinence-based program whose guiding principles are: Sobriety, Secularity, Self-Help. LifeRing has no prescribed steps to follow and offers non-spiritual, peer-based support for those in recovery from addiction to alcohol or to other non-medically indicated drugs.
Rational Recovery (RR)–is a direct counterpoint to 12-Step philosophy, is a secular, abstinence-based program that emphasizes self-recovery. RR views problem alcohol use as a voluntary behavior, not a disease. RR's family-centered approach to recovery utilizes their Addictive Voice Recognition Technique (AVRT) program, which is delivered through an online platform and includes the use of books, videos and lectures. There are associated fees with some materials and subscriptions. The website also offers free materials. RR does not hold any meetings and actively discourages attendance at meetings as they believe recovery should be fully self-directed.
Secular Organization for Sobriety (SOS)— is a non-profit network of autonomous addiction recovery groups that does not view surrendering to a Higher Power as necessary to achieving and maintaining sobriety. SOS is secular, but welcomes both religious and non-religious people at their meetings. SOS uses mutual support and their Suggested Guidelines for Sobriety to emphasize rational decision-making that leads to sobriety.
SMART Recovery (Self-Management and Recovery Training)–is an abstinence-based, secular approach to recovery. The program emphasizes self-empowerment and uses cognitive behavioral therapy (CBT) and non-confrontational motivation methods to develop skills in four areas: Enhancing Motivation, Coping with Urges, Problem Solving, and Lifestyle Balance. SMART holds in-person and online meetings and also operates a teen and youth program.
Women for Sobriety (WFS)–The first national self-help recovery program specifically for women, WFS helps women overcome alcohol and other addictions. WSF asserts that negative thinking is at the root of destructive behavior and that it is up to the individual to change her thinking in order to change her behavior. WSF offers a small number of in-person meetings and their "New Life" program for recovery can be found online.
Faith Assisted Recovery–There are a number of mutual help groups with a religious affiliation. This section provides information on Christian, Buddhist, Jewish, and Muslim recovery groups.
Online Forums–A list of online communities that offer peer support and can help connect people in recovery to others who share similar experiences.
Tech for Recovery–This section provides information and links to web programs and smartphone apps that assist with recovery.
Non-abstinence Addiction Mitigation Options 
Harm Reduction–incorporates a spectrum of strategies from safer use, to managed use to abstinence to meet drug users "where they're at," addressing conditions of use along with the use itself. Because harm reduction demands that interventions and policies designed to serve drug users reflect specific individual and community needs, there is no universal definition of or formula for implementing harm reduction.
Moderation Management (MM)– is a secular program and national support group network for people who are concerned about, and want to reduce, their drinking. MM believes that alcohol abuse is a learned behavior, not a disease, and promotes early self-recognition of risky drinking behavior in order to manage it. MM members set their own drinking goals and are encouraged to follow particular drinking guidelines, limits, goal setting techniques, and a nine-step cognitive-behavioral change program.
Peer Based Recovery Support
Recovery coaching is a generic term that covers many different roles. They provide support for people trying to overcome their compulsive, obsessive, destructive behaviors. A Recovery Coach helps clients make smart choices and healthy decisions with the number-one priority remaining abstinent and not acting out in their addiction. A recovery coach insurance against relapse.
Sober homes– sober living facilities that provide safe housing and supportive, structured living conditions for people exiting drug rehabilitation programs. They serve as a transitional environment between such programs and mainstream society.
Half-way houses—transitional housing from prison to mainstream society. These are strictly abstinence only.     
Recovery Supports in Educational Settings                     
Recovery high schools–are secondary schools designed specifically for students in recovery from substance use disorder or dependency and from co-occurring disorders such as anxiety, depression, and attention deficit hyperactivity disorder.
Association of Recovery in Higher Education (AHRC) A collegiate recovery program (CRP) is a College or University-provided, supportive environment within the campus culture that reinforces the decision to engage in a lifestyle of recovery from substance use. It is designed to provide an educational opportunity alongside recovery support to ensure that students do not have to sacrifice one for the other. 
Paying for treatment*
Understanding the costs of and how to pay for treatment can be hard and confusing. Unfortunately, resources aren't always well organized or easy to find. The best way to make sure you choose care that you can afford is by asking questions, taking notes, and making sure you know what kind of support you're eligible for. Only 17% of people needing recovery from addiction are getting the resources they need to get well. This is a terrible investment rate for the biggest preventable health crisis facing the country.
Don't let money stop you from finding treatment. There are free and low-cost facilities across the country, and many others accept Medicaid or private insurance. Your state also has funding set aside to help people without insurance afford treatment.
Does insurance cover substance use treatment?
The Mental Health Parity and Addiction Equity Act (MHPAEA) of 2008 requires health insurers and group health plans to provide the same level of benefits for mental and/or substance use treatment and services that they do for medical and surgical care. That means your insurance company can't tell you "we don't do substance abuse treatment" or "mental health isn't covered." If they do this, they're breaking the law.
If you've been denied coverage for treatment, there is a Mental Health and Addiction Insurance Help tool can help you find the right resources to solve issues with your insurance. https://www.hhs.gov/programs/topic-sites/mental-health-parity/mental-health-and-addiction-insurance-help/index.html
*Taken from "Find Treatment.gov, https://findtreatment.gov/content/paying-for-treatment/understanding-the-cost-of-treatment
The abbreviation LGBTQIAPK represents one of the newer forms of the definition of the larger gay community. According to Ms. magazine, the term gay itself came from the underground slang used in the 1940s and 1950s, which referred to both male and female homosexuals. As time went on, lesbians objected to the word gay because it was used almost exclusively to refer to male homosexuals. During the feminist movement of the 1960s, the term lesbian was adopted to differentiate female homosexuals from the popular understanding of gay being used to talk about men and to draw more attention to the issues facing women in the same-sex community. By the 1970s, the expression gay and lesbian came to refer to all same-sex people.[1]
For decades, bisexual and transgender had been battling being lumped into the term gay and lesbian, primarily because bisexual people were neither gay nor lesbian, and transgender is a definition of gender identity, not sexual orientation. In the early 2000s, organizations that welcomed and advocated same-sex people changed their terminologies to welcome the new GLBT community.[2]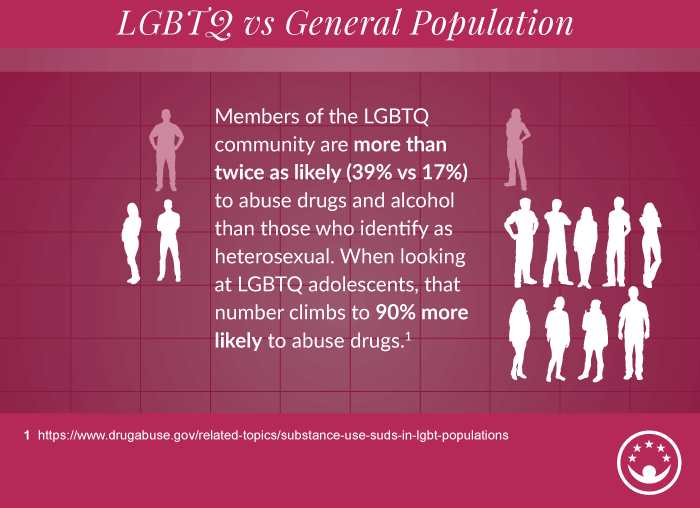 In the years that followed, the abbreviation was changed again to LGBT, again giving lesbians more visibility in a rapidly growing movement. The constant evolution is a sign that people will always need new words or letters to define their emerging identities. To this point, Ms. magazine observes that "today, there is no single correct term." LGBT has been augmented (and continues to be augmented) to include every possible point on a growing spectrum of human sexuality and gender identity.
Join our "fast-growing" network
Are you a spiritual leader in your community? Join our fast-growing network of individuals seeking out knowledge and care for those affected by addiction.